Every industry has had to adapt to the coronavirus. For the death care industry, the transition has been especially difficult in some ways. Families are used to having large funerals, and community has always played a big part in remembrance. You've needed to adapt how you conduct memorials – it's time to adapt your marketing, too.
Talk About Change
Depending on where you are, you've probably experienced a number of important changes to how you operate your funeral home. You've had to reduce the number of people who can attend a memorial; there may have even been a moratorium on memorial services altogether. Let your customers know about what they can expect, and keep them updated about any changes. You can also let them know about any adaptations you've made – many funeral homes are offering to keep bodies at no charge until such a time as a memorial service can be arranged.
You should keep your clients aware of any new changes that come about, and help them understand that the situation is fluid and could change. Here in Manitoba, for example, it was recently announced that the public gathering limit has increased to 50 people indoors and 100 people outdoors. This could allow families to have an experience closer to the traditional memorial they've imagined. That said, if more COVID-19 cases arise, they may have to lower the limits again. Making sure your customers understand this can help them make important decisions about when the service can be held.
We'll talk more about how to keep your customers aware of changes in the "Go Digital" section.
Talk About What Stays the Same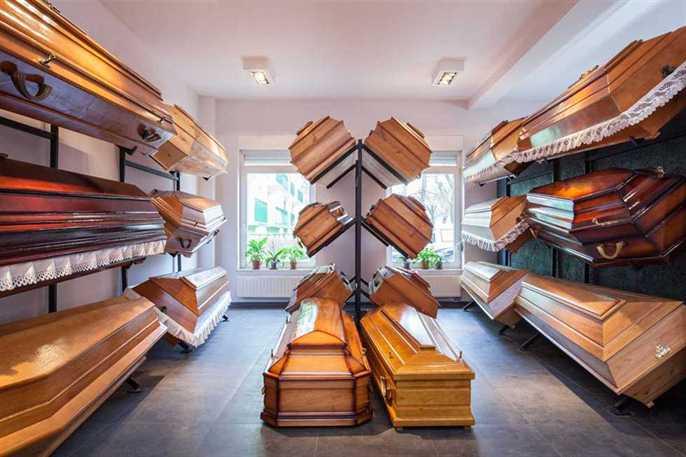 The funeral industry has exceedingly high standards when it comes to cleanliness – you have to be extremely hygienic when you're handling dead bodies. Let your clients know about your standards of care even if they haven't changed; at a time like this, people want to know all the steps you're taking to keep the public safe.
You should also mention cremation as a viable alternative to traditional burials. When doing so, you should focus on how cremation will allow the family to have a memorial whenever they want. This is especially practical if you're not sheltering bodies free of charge.
Go Digital
Now more than ever, the Internet is your friend. There's a lot to go over when it comes to the advantages of digital marketing, so we'll just do a brief summary of some of the steps you should take:
Are you offering live streamed or recorded memorial services? If you aren't, we highly encourage you to start. They offer a degree of flexibility in a time where rules seem to limit what anyone can do. By live streaming or recording, you can offer to include people who live in other countries in the memorial service. By recording, you can include people who wouldn't have made it to the live service, and you can create a memory that your clients can keep as long as they want.
Live streaming and recording are changes that may very well continue in the post-COVID environment; the logistical advantages of both are still applicable even when there isn't a pandemic.
How should you keep your clients aware of all of these changes? Be very active on social media. You should be posting once a day, letting your customers know about any changes that might impact them. You can also highlight staff activities, volunteer work, community outreach, or any other initiatives that you're taking. There's a time to be serious, but your feed doesn't have to be all doom and gloom.
Invest in Marketing
This is a fantastic time to invest in marketing. That might seem counterintuitive, but think about it like this – marketing works best when you can capture a large segment of your customer base.
Right now, a lot of people are at home surfing the web. Right now, a lot of companies are divesting in marketing in order to shore up savings. That means there's a huge segment of the population that isn't being advertised to; your funeral home can fill that void.
Search engine optimization (SEO) is an invaluable part of a modern day digital marketing plan. When other funeral homes aren't investing in it, it creates an excellent opportunity to get your funeral home to the top of search engine results for relevant keywords. Once you're at the top, it becomes much easier to stay there. SEO is a long-term competitive strategy, and if you get a leg up while your competition is ignoring it, you'll win the top ranking.
We're First Rank Funeral Home Marketing, and we're dedicated to creating value for your funeral home. We'll handle every element of your online funeral home marketing, from reputation management to web design – and of course, SEO. Get in touch with us today, and we'll help you bury your competition.