When people think of search engine optimization (SEO), they're most often thinking of ranking well in the text links that Google displays on search engine results pages (SERPs) – what you might think of as "normal" search results – like this: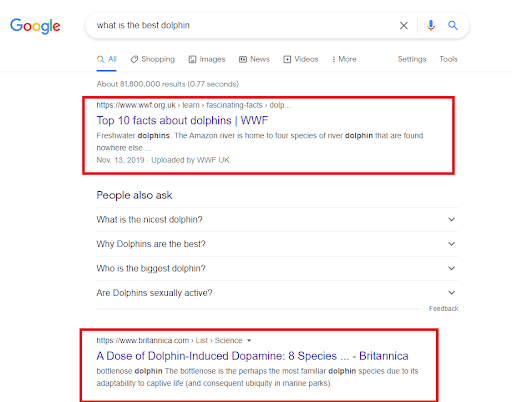 *Sadly, I'm no closer to knowing what dolphin is the best. The search continues…
There are actually other search results that local businesses should be concerned with, too.
Funeral home SEO is inherently local – people are very rarely looking for funeral homes that are far away from their actual homes.
When Google notices that you're making a search that it deems local (in other words, that you're looking for a place near you), you'll get a different set of results at the top of the first SERP. A set of results that looks like this:
This is known as the 3-Pack. It's inherently tied to Google Maps, and it dominates SERPs for local searches. This is especially true on mobile, where most local searches are made. And look at how much information it provides! Reviews, locations, pictures, and a whole lot more.
You want your funeral home to show up on this 3-Pack. To do so, you'll need to rank well in Google Maps.
Google Maps ranking factors
When you're trying to rank well in Google Maps (and on the 3-Pack), Google looks at three things:
Proximity

Prominence

Relevance
Proximity is simple enough to explain: how close is the business to the person who is making the search? Google can determine proximity using postal/ZIP codes (on desktop), or using geotargeting (on mobile). This means 3-Pack and Maps results can vary dramatically based on the searcher's location.
Prominence is about how well-known or respected your business is. Does your business get a lot of reviews? Are a lot of other websites linking to yours, or making reference to your name and location? Do you get a lot of foot traffic?
Relevance is the broadest category, and it has the most tie-in to regular SEO. What kind of content do you have on your site? Is it relevant to what Google users are looking for? Is it modelled in a way that makes it easy for searchers (and Googlebot) to read and understand? There are a lot of other factors at play with relevance.
Why ranking highly is so important
88% of Google users who make a local search, will call and/or visit a business they find within 24 hours. (We got that stat from Hubspot – check out their 16 Local SEO stats for more).
Remember – the 3-Pack is tied to your Google Maps ranking, and it's what pops up first for local SEO searches. People don't use the Yellow Pages to find funeral homes anymore – they use Google. By ranking higher in the 3-Pack than your competitors, you're gaining new clients while stonewalling theirs.
As you know, there's no shortage of the need for funerals. The customer base is always there – the only question is which funeral home they'll go to.
Ranking highly in Google Maps means getting more calls. It's as simple as that.
It's important to note that while proximity is incredibly important, relevance and prominence can expand the radius in which you're considered "in proximity". In developing this article, I was extremely pleased to see that one of the funeral homes we work with, which is across the city from where I live, ranked in the 3-Pack.
That means we've helped them develop their relevance and prominence so significantly that Google shut out funeral homes that were closer to me because they believe our client is better – even though they're much further away.
That's the power of ranking highly in Google Maps.